Jeung San Do and the 32nd Annual Los Angeles Korean Festival
 Every September, Koreatown in Los Angeles becomes exhilarated by a festival atmosphere, and Jeung San Do? Los Angeles area dojangs are no exception. This year, Jeung San Do had prepared since August for the 32nd Annual Los Angeles Korean Festival, which took place at the Seoul International Park over four days beginning September 22nd. The Los Angeles Korean Festival is a once-a-year opportunity for all Koreans in the Los Angeles area to get together, and the theme of this year? festival was A Celebration of Excellence. The members of the Los Angeles and Orange County Dojangs worked together during the four days of the festival, manning a booth in exactly the same place we occupied at last year? festival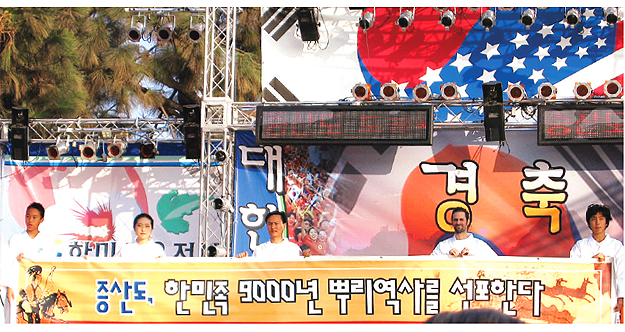 Immigrants have to adjust to a whole new culture and environment, and during their busy lives, they often lack the opportunity to stay attuned to their native land. Our mission was to help Korean immigrants reconnect with their Korean heritage by helping them to understand our culture, traditions, philosophies, and beliefs. We sought to open their eyes to the fact that in the future, Korea will be even more prominent on the global stage, and to awaken them to the Autumn Gaebyeok.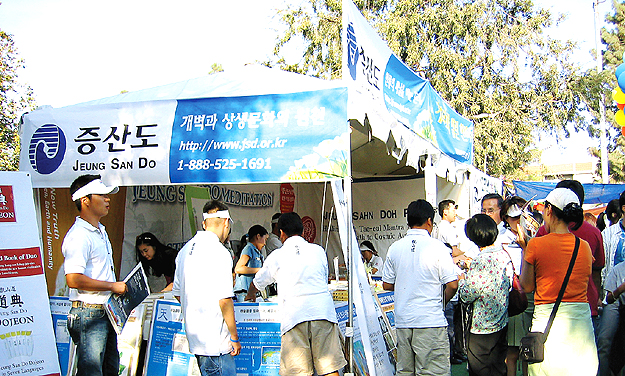 On the first day, we set up our booth early in the morning, placing books, panels, flyers, and other materials on display. After getting organized, we started lending Jeung San Do materials to the visitors passing by our booth. Even though the first day of the festival fell on a Thursday, a workday, we still distributed our books to quite a few people.
 On the second day, Jeung San Do had thirty minutes of time on the main stage allotted to us. For these thirty minutes, we prepared seemingly around-the-clock for the previous two months, determined to present Jeung San Do? truth in a way that was both easy to understand and friendly. Nobody but us knew what to expect from our presentation until it was performed onstage, and I think that the festival coordinators even rescheduled our stage time to an off-peak slot in the expectation that Jeung San Do? presentation would be boring. However, our performance astonished them, and the coordinators must have enjoyed our show beyond all expectations, because afterward they asked us why we had ended so quickly.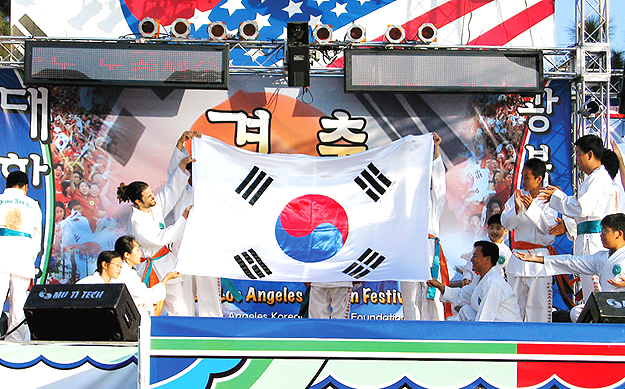 Our program began with a rally song from the 2002 World Cup, and the playing of this song gathered an audience around the stage. By remembering the sense of unity we shared during the 2002 World Cup, we could all easily feel ourselves becoming united again as one. Next, we put on a modern dance exhibition to the Jeung San Do song Life? Spinning Wheel while clad in brilliant white costumes. The festival coordinators rushed to turn on the stage? lights and fog machines, although it was not even dark yet.
 After that, we gave a presentation about the history of the Korean people, followed by a jazz dance set to For Humankind, a song about Korea? proud place within the world. Some non-Koreans participated in this dance, hopefully presaging a future of harmony between different peoples; these participants enjoyed the song? tone of hope even though they did not understand the Korean language. Afterward, they said that the Korean spirit demonstrated by the practitioners had impressed them and that they thought that other Koreans should know more about Jeung San Do. Hearing this alone have made our performance worthwhile.
 Toward the end of our show, we gave a scientific presentation on the effects of meditation, focusing on the Taeeulju Mantra. We ended with the native folk song Arirang in order to further awaken the pride of all Koreans, who had long understood the world of dao. About twenty people came up onstage and danced shoulder-to-shoulder to Cho Yong-pil? Arirang Dream, which culminated with the unfurling and waving of the Korean flag.
 Our audience was inspired and applauded generously, touched by thoughts of their homeland. The performance was a great success.

 The third and fourth days of the festival fell on a weekend, bringing in a surge of crowds. We remained on the lookout for future ilkkun in our conversations with people filling out questionnaires about the nine-thousand-year history of Korea, the cosmic year, and Taeeulju Mantra meditation. We found our visitors even more open-minded than last year, and through our conversations, we were able to establish a rapport based on those things we all had in common. The visitors often felt insecure about the future because of the natural disasters that have occurred all over the world this past year. Dojeon chapter two, section forty-two, verse three says, The world will show you the course of everything under heaven. The world itself is revealing vast changes to all people, and so people are beginning to change on their own. This is especially true here in California, where we have been often warned about earthquakes. Recently, authorities in Los Angeles have been broadcasting media announcements about earthquake preparations, making people tense. The economy is in decline.
 It is a shame that people put their best efforts into living well but the world just keeps becoming a more and more difficult place in which to fare. To give people an opportunity to escape from their everyday life and think about questions like ?ho am I???hy am I living on this earth at this time??and ?here is this world headed??we lent out Jeung San Do books that gave clear answers about the future. Of all the panels in our booth, we noticed an unexpectedly large amount of interest in those panels focused on ancestral rites.
 Finally, through this event, the Los Angeles and Orange County Dojang members gained great confidencewe may be small in numbers, but we can do anything if we do it together.